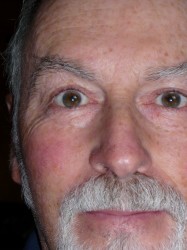 Born James William Green, in England 1951, my family immigrated to Australia part way through 1963.
With the many opportunities Australia offered, I managed to win a position as a trainee Art teacher at the North Adelaide School of Art and Western Teachers College from 1969 to 1971. This resulted in a Diploma of teaching (Art) and later I studied part time to be awarded my Bachelor of Education (Design).
I taught in South Australian Secondary Schools, both in country centres and the metropolitan area, from 1972 until my retirement from the SA Education Department in 2006. Teaching Art, Design, Drama and Career Education, at various times was a fulfilling experience for me.
With retirement from class room teaching, came a new working life for the SACE Board of SA in 2007 where I wrote art curriculum materials and helped set and assess standards for year 12 students, until I fully retired at the end of 2010.
Throughout my career as an educator I continued to produce my own art when time permitted. In particular, I was interested in exploring drawing and painting in a variety of styles. I have worked in acrylics, water-colour, pastels, pen, and at times mixed media. I have a strong affinity with the natural environment and pursue this theme in many of my artworks. In more recent years I have become more  narrative in my approach or try to communicate with the viewer about environmental or social issues.
Many of my pieces have been gifted to family and friends, and others sold on commission to individuals and businesses. Some of my art is in  private collections throughout Australia and overseas.
2011 my wife Sharon and I, did a number of caravan trips interstate to explore the natural and built environment. This was a great adventure for us. We experienced the crossing of the nullabor to WA as well as travelling through many country towns throughout Victoria, NSW and Queensland. Sharon is a gifted craftsperson and is my constant B*** S*** detector, critic and advisor. We are a perfect partnership. Our adventures and others in the future will help to provide all sorts of inspiration for my art.
Here we are againpictured on the Great Ocean Road, Victoria in 2012
Now in 2017 during the winter months, we are about to go as far north as we can in our little caravan. Cooktown, north of Cairns is the aim. Some interesting rainforest photos are anticipated which could be my main artistic theme on return in August.