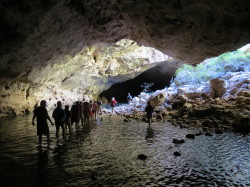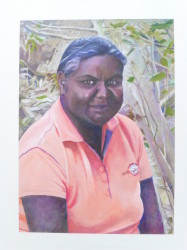 'Anthea – Mimbi Caves Guide'
Acrylic on canvas board. 360 x460 mm unframed.
Anthea has bought her portrait via this web-site. The deal was made after I asked Anthea If she would pose for a photo when we were visiting the Kimberly Ranges in WA 2013. We met Anthea when on our outback tour with 'Kimberly Wild', travelling in the bush, stopping to walk in  the Bungle Bungles, Echidna Chasm and many more spectacular features. Our visit to the sacred site of the Mimbi Caves, off road but near Fitzroy Crossing, was made even more memorable by our wonderful indigenous guide Anthea. She was very knowledgeable and caring in her approach. With  torches in hand, our group walked through shallow water and climbed over rocks as we gasped at the wonderful formations, stalactites and  stalagmites . It was fabulous.
Anthea has given permission for me to post a photo of her portrait painting here on this web-site. I hope that her natural beauty  and caring nature has been communicated through my work.