We are now back from our trip clockwise around Western Australia, Northern Territory and back home down the middle of Australia. Two and a half months of adventure, fun and inspiration in an incredibly diverse countryside.
As a result, some black and white brush,pen and ink illustrations of the strikingly handsome, elegent, streamlined….. and profuse, top-end Black Kites are now in the process of creation. These to be included in Marion Art Group's next exhibition at Hallett Cove Shopping Centre in October….(along with other pieces not sold at earlier exhibitions this year.) Also for this exhibition my unconventional interpretation of the theme of 'SPRING', a small acrylic to attract the men buyers???
….watch this space to see what I come up with………..
I am now also a member of the Marion Cultural Centre's art group 'Red House' which entitles me to contribute to several group exhibitions through out the year. Coming up in November is the 12th Annual City of Marion, Community Art Exhibition. I will enter my 'Wreckollections, Silverton, NSW,' left unsold at the last Rotary Exhibition. Hopefully this time the right person will spy and buy it.
Before the end of the year I also want to complete a major acrylic of a dramatic scene from our Kimberly Ranges adventure and also, my first ever major portrait of one of our indigenous guides. (media undecided)
So many images in my head and hundreds of photos to inspire me……….
Below some pieces recently gifted: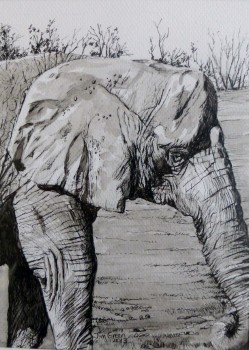 'Old Leather' : Brush, Pen and ink.
(From one of my many photos taken at Dubbo Zoo visited 2012)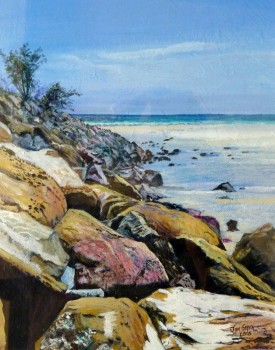 'Wallaroo Rocks' acrylic on canvas board.
( From a family camping holiday early 2013)