The Westfield Marion shopping centre exhibition for MAG was quite successful for some of us. I sold  two small unframed pieces which was OK for the first time I have exhibited with the group. The general shopping public were reluctant to spend money on art and in the main it was the cheaper pieces that were sold.
My two were both pen/brush and ink drawings.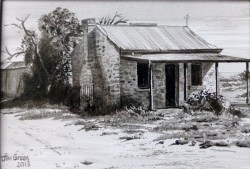 Abandoned Hut, Silverton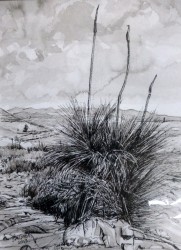 'Yakka, Flinders Rangers'
I have a number of unsold framed watercolours and acrylics to consider their method of distribution. Several opportunities should come up with MAG before we go on our big trip early June.
I now need to finish off my three pieces of work for the Lions Club Glenside exhibition on 23rd to 28th May at the Burnside Town Hall.