Exciting times within the Green household in the lead up to Christmas and the New Year. Memories of our wonderful trip to the Kimberley Ranges, WA come flooding back with a communication through this web-site from Anthea, indigenous guide at the Mimbi Caves……reminding me that I wanted to try a portrait of her. So,  inspired to make the attempt at capturing her natural beauty, I have completed the painting and am now waiting for permission before posting a photo of the piece on this website.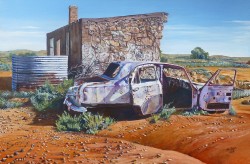 Wreckollections, Silverton NSW 2.
Acrylic on Canvas, 750 x 500 mm.
I entered the above painting into the 12th Annual city of Marion community Art Exhibition displayed during November and December 2013. As yet not sold, but………….through the viewing of this painting I have been offered a one-man exhibition at Maxwell Wines through out September and October 2014.
An amazing opportunity has been provided out of the blue.
I will have a ready-made audience as the exhibition will be part of the Fleurieu Peninsular Art Trail that takes place every year.
Needless to say I have accepted!!
This will put any major travel plans for 2014 on hold, but that is fine!
More will follow as I navigate the process of working toward a one-person exhibition through out the first eight or nine months of 2014.
……and this while I take on some committee responsibilities with the Marion Art Group.
Busy and exciting times.
A happy Christmas and new year to all.