'A brush with art'  is an art trail from Gladstone and Jamestown through the Southern Flinders Ranges, up as far as Parachilna and down through Port Augusta and Port Pirie. A wonderful trip to do over a few days during our usually delightful spring weather (and when the wild flowers are fully flowering!). Go to abrushwithart.com.au for details.
I have participated in this wonderful festival of art for the last two years by exhibiting at the Woolshed Restaurant Gallery, Rawnsley Park and am presently preparing for my third. This year I am co-exhibiting with collage artist Sharon Brett. Gallery owners Sally and John Dean have always found me a talented young artist to exhibit with, someone who works in a different way to me to provide a nice contrast of styles for the viewer.
This year my theme is 'Dimensions of Wilpena Pound'.  Rawnsley Park station is a working sheep station situated just outside the southern tip of the pound. My interpretations of the pound will be shown in both the macro and  micro view, from above, inside, outside and from within the very fabric of the environmental and historical aspects of such a fascinating geological feature. As usual I will provide some optical twists for the viewer to discover.
More information to come as I need to get back to the paintings, pastels and pen and brush drawings I have in progress. Below is a sneak preview!!!!!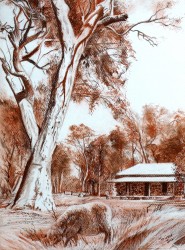 Hills Homestead Homecoming, pastel, 400x 500 framed